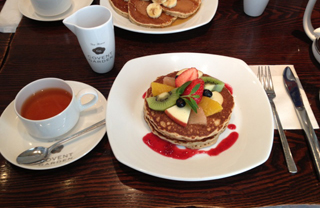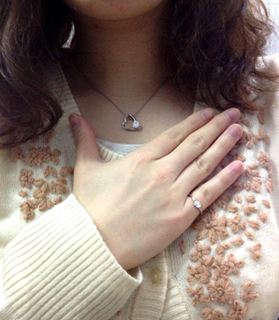 Hello!
I went to eat pancake in Yokohama on Sunday♪
The Pancake set★880yen
・The pancake of the season
・strawberry tea
(I drank 3 cups of it!)
It was so good!!yummy!!
It was the best pancake I've ever had!!
The cafe was also great.
I absolutely felt comfortable staying alone and felt like time passes very slow.
I had such a good time there

I spend quite girly day so today's style is "feminine style"!!
1.The PETIT heart shaped pendant
It may be too sweet with pink gold so I chose standartd color silver.
The white zirconia gives the impression of matured women.
2.Heart shaped genuine stone ring
The stone is the rainbow moon stone and had been cut into very feminine heart shape

For the rainbow moon stone, people says that the stone will raise your fortune.
The ring has various of colors, I think this is going to be very hot item
Be feminine and eat very yummy desserts

by Marimo
PETIT heart shaped pendant
item code: SPDL63-002 4,725yen
https://secure253b.sakura.ne.jp/bossanova-web.com/english/webshop/eng-item-page.php?item=SPDL63-002
Heart shaped genine stone ring
item code: R28-172
https://secure253b.sakura.ne.jp/bossanova-web.com/english/webshop/eng-item-page.php?item=R28-172
Please let us know for any questions regarding the new service and items
(*^ - ^*)┐┐↓☆
【BOSSANOVA WEB shop】
E-mail : info@bossanova-web.com
TEL : 045-478-3108
WEBshop:
https://secure253b.sakura.ne.jp/bossanova-web.com/english/webshop/index.php