Hi!!
How have you been??
Well, you might think I had a long great holiday, don't you?
But the reality is not....it was quite tight lol
several time ago, i had luch at open terace cafe.
and there, i was surrounded by a group of pigeons!!!
it makes me feel like i was one of them. hahaha
so i would like to introduce you some feather motif pendant ;)
( i might be inspired by those pigeons....)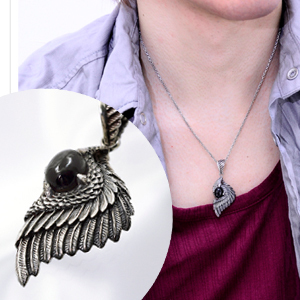 what's so special about this pendant is detailed design!
the feather shape is so real, as if it's going to fly away soon.
you can fly, you can fly, you can fly!! hahahah
the black star stone in the middle is the great accent to this cool pendat!
hope you find your favorite item from our web shop!!
and i am very sure you do!!!
thank you for reading, see you in soon time!
****************************
PENDANT AND CHAIN SET
PRICE 12,000 JPN YEN
CODE PN8-792N/BS
****************************
We are welcome to accept your orders whenever you want!
Any query let us know freely;)
E-MAIL: info@bossanova-web.com
TEL: 045-478-3108