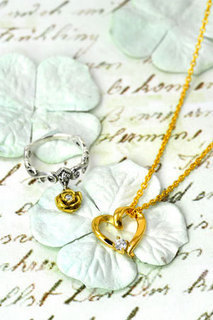 +*+*+*+*+*+*+*+*+*+*+*+*+*+*+*+*+*+*+*+*+*+*+*+*+*+*+*+*+*+
LUXURY GOLD CORDINATE
+*+*+*+*+*+*+*+*+*+*+*+*+*+*+*+*+*+*+*+*+*+*+*+*+*+*+*+*+*+
Today, our theme is "be a girl, be a lady"
we pick up a gold color pendant and a silver ring;)
First is a heart shaped pendant
it is a bit rare to see these twisted heart shape, isn't it?
a zirconia stone on the bottom gives much sparkles to you
the pendant is made with stainless steel, it's not going to get
damaged even if you get sweat a lot especailly from this season
Next is a pinky ring made with silver and brass
the ring looks like a tiara and it has a mini rose made with brass
both design is very detailed and a zirconia stone shines birilliantly
it must make your hand more gorgeous!!
I recommend you to cordinate with same material, of course,
but also it's nice to match the color and mix the materials:)
it's more high level and high sense!!! hahah
have more fun with more accessories
*******************************************
NECKLACE PTPN3-015G 7,800JPN YEN (+TAX)
WEB
RING PTR8-014WH 5,000 JPN YEN (+TAX)
WEB
********************************************
We are welcome to accept your orders whenever you want!
Any query let us know freely;)
E-MAIL: info@bossanova-web.com
TEL: 045-478-3108