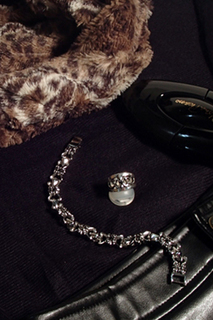 +*+*+*+*+*+*+*+*+*+*+*+*+*+*+*+*+*+*+*+*+*+*+*+*+*+*+*+*+*+
BLACK STYLE
+*+*+*+*+*+*+*+*+*+*+*+*+*+*+*+*+*+*+*+*+*+*+*+*+*+*+*+*+*+
Black is always useful at any season and any scene.
There is a style to wear all in black too.
it seem to be difficult to wear all black cordinate, but very fashionable.
The recommended style are two accessories that makes your fashion even more impressive.
The accessory makes your winter style even more beautiful.
The ring of lilyfleur motid with transparent design pluses a feminine impression to your style.
The popular bracelet in a the stainless style.
The stainless has a scratch resistant effect, thus easy to wear.
Also the transparent design gives a chic impression to you.
--------------------------------------------------------------------------------
Pendant chain set SBC86-016BLK \14,000
https://secure253b.sakura.ne.jp/bossanova-web.com/english/webshop/eng-item-page.php?item=SBC86-016
Ring R5-407BLK \7,000
https://secure253b.sakura.ne.jp/bossanova-web.com/english/webshop/eng-item-page.php?item=PN8-654L/N
--------------------------------------------------------------------------------
Please send us inquiries regarding the size or the stone color
!(*^ - ^*)┐┐↓☆
【BOSSANOVA WEB shop】
E-mail : info@bossanova
webshop/index.php
MOBILE :
http://www.bossanova-web.com/mobile/index.html
E-mail : info@bossanova-web.com
TEL : 045-478-3108
WEBshop:
https://secure253b.sakura.ne.jp/bossanova-web.com/webshop/index.php